---
Whether you're a long-time health aficionado or someone who's just begun their fitness journey, pink Himalayan salt is a must-have for your kitchen. Also known as Himalayan crystal salt, this pink-hued rock salt is hand-mined from the Khewra Salt Mine, the oldest and largest salt mine in Pakistan. Its pedigree aside, pink Himalayan salt is replete with qualities that put it leagues above commercial table salt. This is one condiment truly deserving of a place at your dining table, and here are five reasons why:
1. Pink Himalayan salt has less sodium and more potassium – Table salt undergoes a refining process that strips away nearly all of its minerals, save for chloride and sodium. In fact, the scientific name for table salt is sodium chloride, which hints towards how unhealthy table salt is. Sodium increases water retention, so loading your body with this mineral makes it harder for your kidneys to expel water. The more fluid there is in your body, the greater the strain on your kidneys, and the higher your blood pressure will rise, putting you at greater risk of hypertension. Thankfully, potassium is able to counteract the effects of sodium. But table salt is almost completely devoid of potassium, meaning that the sodium from your table salt has no counterbalance. Pink Himalayan salt doesn't have this problem. Though it contains sodium, pink Himalayan salt has a sodium content lower than that of table salt. Moreover, it has a good amount of potassium to prevent sodium from throwing your body's natural equilibrium of fluids out of.
2. Pink Himalayan salt has more minerals – In addition to sodium and chloride, iodine is often added to table salt to combat iodine deficiency. Apart from these, however, there aren't really any other notable minerals to be found in table salt. Pink Himalayan salt, on the other hand, is loaded with as many as 84 naturally occurring minerals and trace elements. These include common minerals like potassium, iodine, calcium, iron, and magnesium, as well as more obscure ones such as molybdenum and strontium. It's this impressive abundance of minerals and trace elements that give pink Himalayan salt its signature color and its well-earned healthy reputation.
3. Pink Himalayan salt maintains and supports your body better – Too little salt is just as bad as taking in too much of it. Sodium may have negative connotations attached to its name, but these ill effects only come about from excessive consumption. It still plays an important role in muscle contraction, glucose absorption, cardiac function, and, of course, fluid level regulation. On the other hand, chloride supports the digestive process and maintains blood pressure and volume. Iodine, meanwhile, promotes healthy thyroid function and minimizes your risk of developing hypothyroidism, a condition resulting from a lack of thyroid hormones. As was mentioned above, pink Himalayan salt is packed with a wide variety of minerals that all contribute towards a healthier you. It has all of the six electrolytes needed to keep your body properly hydrated for your muscles and nerves to function optimally; namely calcium, phosphorus, magnesium, potassium, sodium, and chloride. Having these and other nutrients in you can, among other things, support your adrenal glands and provide relief from migraines.
4. Pink Himalayan salt is pure – To get table salt, you either need to evaporate salt water or extricate solid salt from salt mines. From here, the salt undergoes chemical processing and bleaching to remove any impurities. In place of the stripped minerals, some manufacturers will add anti-caking agents, to absorb moisture or chemicals like ammonia and aluminum. This toxic heavy metal is especially infamous for its associations with neurodegenerative disorders such as Alzheimer's disease. Luckily, Pink Himalayan salt does not undergo any of these processes. They come to your table unrefined and pure. Furthermore, the Khewra Salt Mine has existed for millions of years and the salt extracted from it is of the same age. This means that Pink Himalyan salt comes from an environment that has not been exposed to toxins, impurities, and pollutants like pesticides.
5. Pink Himalayan salt tastes better – Salts adds flavor to any dish. Though what that flavor is will differ greatly. Table salt will add a "salty-sharpness" to your meals. Himalayan pink salt, on the other hand, will imbue your dishes with so much more. Sprinkling it over your dishes will add a soft touch of flavor that enhances the already existing taste and odor without overpowering them. Basically, you get none of the sharpness linked to table salt and all of the zing.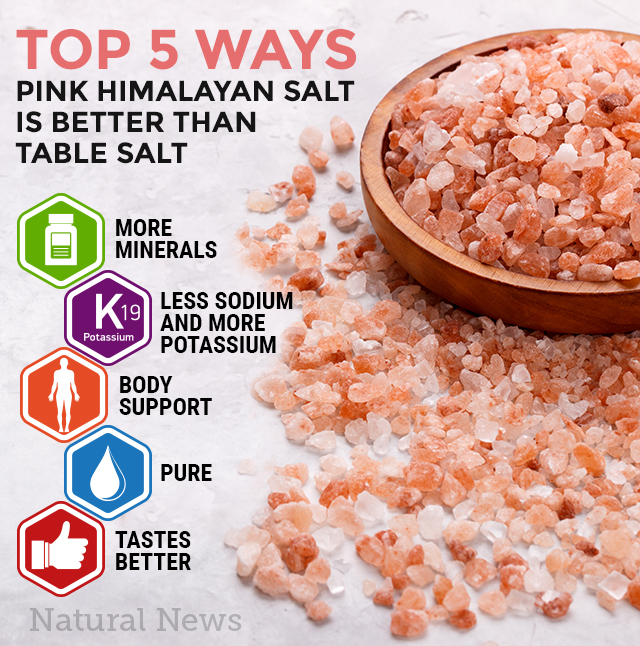 Pink Himalayan salt is, without a doubt, the superior salt and the one you need to save a spot for in your kitchen. And if you're already raring to buy some, then the Health Ranger Store has got you covered. On offer are two different varieties of this wonderful seasoning: Pink Himalayan Salt (fine) and Pink Himalayan Salt (coarse grind). The latter is for those who like to freshly grind their own seasonings. Both, however, are excellent-quality Pink Himalayan salts that can nourish your body and will keep for a long time.
So toss out your table salt and make room for Pink Himalayan salt. You'll be thankful for the added boost to your meals and to your health.
https://www.youtube.com/watch?v=runkikCOg08
Top 5 ways Pink Himalayan Salt is better than table salt from NaturalNews on Vimeo.
Sources include:
Blog.PaleoHacks.com
AuthorityNutrition.com
GlobalHealingCenter.com
HealthNutNation.com
NaturalNews.com
Submit a correction >>